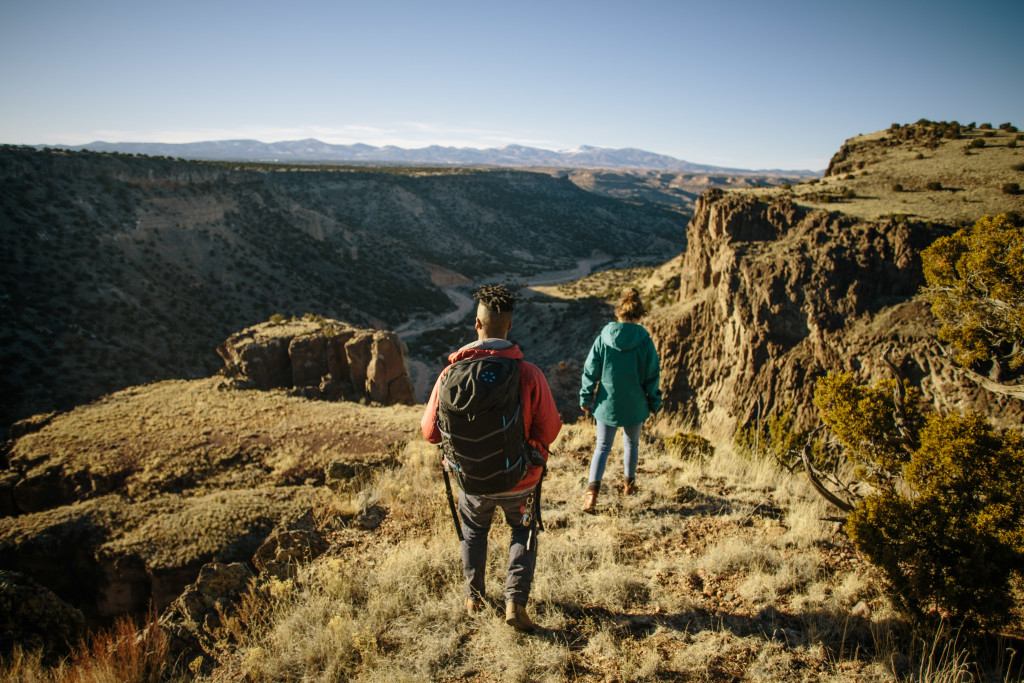 It's a chilly February day, and we're an hour away from Santa Fe lugging a heavy camera up a steep trail. At the top is a craggy cliff overlooking Diablo Canyon. There's not a trace of civilization in sight, and the pale winter sun is setting. It's time to make a movie.
Our latest project is a spring recruitment video and campaign for Santa Fe University of Art and Design. It's our second collaboration with SFUAD: we've already explored their studios and classrooms for a fall recruitment campaign. For this round of storytelling, the university sent us far away from campus. They wanted to reveal the wild natural beauty that surrounds Santa Fe. It's a big inspiration for SFUAD's adventurous students, and sets the university apart from other top art schools around the country.
Writing the script for the recruitment campaign video was easy. We're well-versed in the high adventures that Santa Fe County offers. With a few sweeps of the pen, we dreamed up an action-packed profile of a SFUAD student. A rugged hike up Desperation Peak, snowboarding runs through the Big Tesuque aspen groves, and a breathtaking aerial view of Diablo Canyon were highlights of our shot list. All we needed was a student with a cinematic sense of adventure.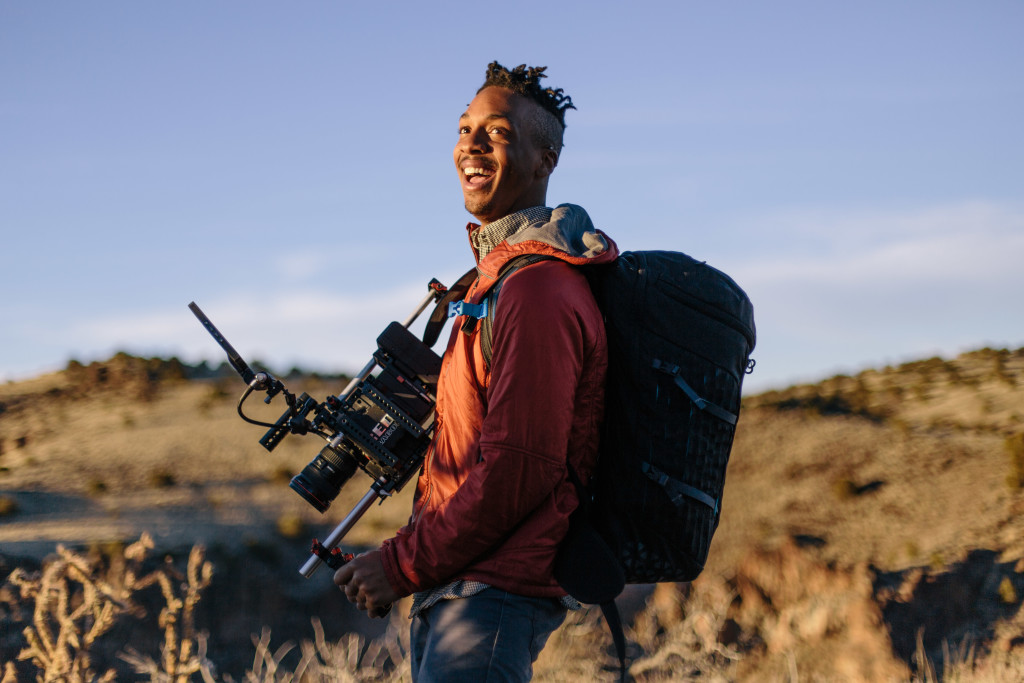 We found the perfect subject in Austin, a film student from St. Louis who had never been to Santa Fe before arriving at SFUAD. "When I first pulled into campus, it was nighttime," Austin told us. "The stars were so vibrant, and the mountains were beautiful. We don't have mountains in Missouri. I was just like, 'This is going to be awesome.'"
The Film School at SFUAD has fostered Austin's professional aspirations. In his junior year, he co-founded a student production company called This Is Our Film, and now produces three web series. That's in addition to his classes in the award-winning SFUAD film program, and opportunities to work with industry professionals in their Shoot the Stars! program. "SFUAD is tight-knit, like a little Hollywood," Austin said. "People who are working and doing what they love naturally find each other. I've grown a lot being at this school."
Austin has also found time in his busy schedule to do some Rocky Mountain hiking. His inspiring story and broken-in boots made us confident that he was ready to hit the trail with a RED Epic on one shoulder. As we crafted the final voiceover, quotes from our interview with Austin wove together to make the script soar.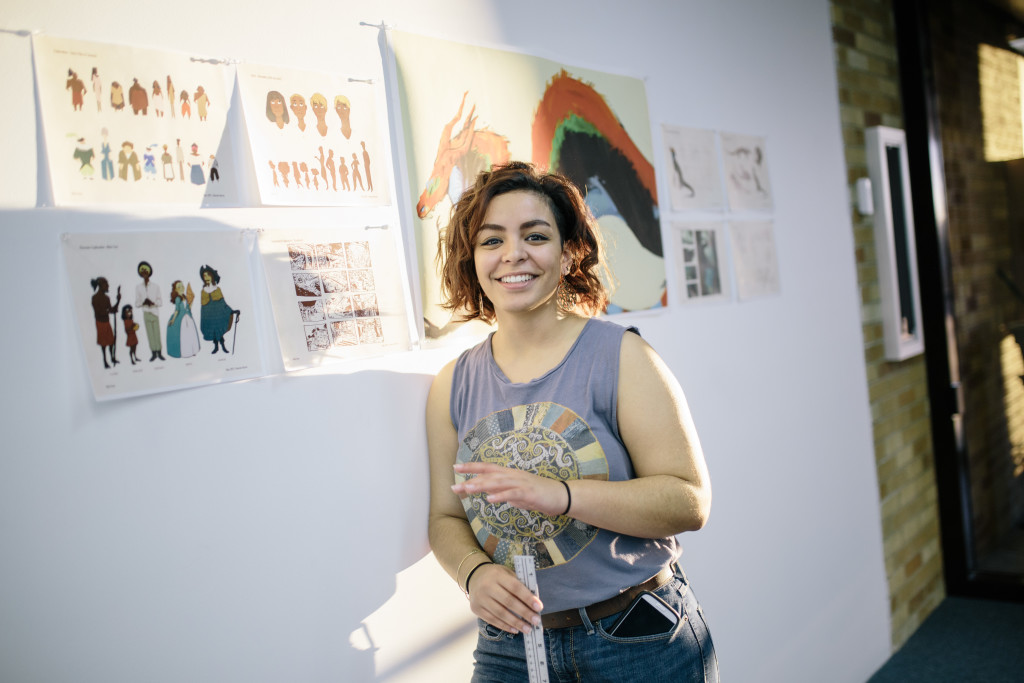 In fact, all of the students we profiled for SFUAD's spring recruitment campaign are excelling far beyond their coursework. Ronnie creates colorful character designs and exhibits them around campus through a student group she helps coordinate called Alexis Collective. Rufino is also a leader of the collective, and already works as a professional graphic designer thanks to support from his teachers. Priscila produces her own short films, and has attended the Sundance Labs with SFUAD. Megan is starring in SFUAD's latest production, Polaroid Stories.
At the edge of Diablo Canyon, it's as though all of these stories are unfurling below us. These young creatives have discovered boundless horizons at SFUAD, and there's no telling where their inspiration will take them. Austin scans the high desert vista with a grin on his face, ready for whatever the future holds. His words echo through our heads: "SFUAD has made me who I am, and I'm so glad to be here."
We set up one of our key shots, a drone flight above Diablo Canyon. Although modern drones are pretty sophisticated in their takeoff and landing procedures, there's still a moment of nervous energy as the propellers start to spin. Hurling an expensive robot into a giant gorge will get you sweating. As the drone lifts off into the uncharted beyond, we boldly trust our instincts—just like the fledgling artists we've met at SFUAD.
Check out a sneak peek of the drone shoot below, and follow the five-week recruitment campaign on SFUAD's website and social media channels. The video launches Sunday, March 20th.